Paint Dance
Saturday, May 1st, 2010 from 9:30 am to 5 pm
Hosted by Lanette Thurman, 1209 Dogwood Drive, Murray, KY
On Friday evening, April 10th at 7 pm, we will meet at Gloria's Restaurant on the corner of 15th and Hughes Avenue for a dinner gathering, (meal not included in playshop fee).
$100, plus $20 materials fee
A $25 deposit is due by April 15th as space is limited and we need to have the right amount of art supplies on hand and reserve your spot at Gloria's restaurant if you choose to join us there also.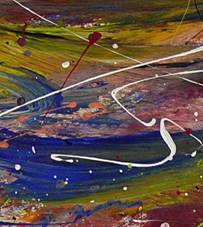 When we are exploring our potential, we listen to our mind chatter and see the chaos that it can produce and how it creates a body "armor" that stifles our natural self and causes us to live in fear instead of creativity and unconditional love from our heart center. We react instead of create.
When we dance--play--paint--create, we become the Catalyst and we begin the process of uncovering our potentiality and meeting our challenges with creativity and inspiration.
Contact Connie for more information and to register, yogart at bellsouth.net, 731-642-4199, and Lanette at lhthurman at aol.com, 270-759-5954 for directions or nearby motels if you wish to stay in Murray on Friday night.
Connie Livingston-Dunn, PhD, ATR-BC, is a practicing artist, board certified Art Therapist and certified Hypnotherapist and has facilitated creative arts workshops nationally. She is a certified "Power of Belief" mentor in the Toltec tradition of Don Miguel Ruiz, author of The Four Agreements, as well as a Toltec apprentice and dreamer since 2002, and is a practitioner in the Law of Attraction.