[Bryce Art] [Crazy Quilt Collages] [Fractal Art] [Original Art]
[Toltec Garden] [Places and Spaces] [Volkswagens, etc] [Sacred Circles/Mandalas]
[Animation Fun] [Stereograms] [Ultra Fractal Artistry Class] [Maisel Painters Group] [Painter 8 Class]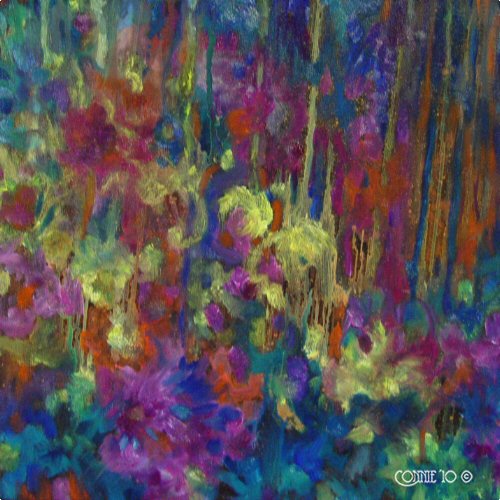 Paint Dance--Underworld
Oil on Gallery Wrap Canvas, 12 x 12 "
The art work in my galleries is done on the computer with the exception of the pages of "Original Art", which contains watercolors, oils, acrylics and mixed media. Some are from my own digital photographs and have been manipulated on the computer.
Others are computer generated fractal images, with no outside manipulation, while others are fractals that have been "collaged" using a graphics program. Some collages contain parts of sepia photographs from the 1800's. I use UltraFractal 5 and I have been importing some of my paintings, collages and photographs into the fractals.
Prints are mounted in acid free mats and are printed on photo quality paper with high quality inks. Digital art prints are approximately 7.5 X 9.5 inches and are 11 X 14 inches matted. Prints in size 11 x 14 inches are available for some art. Frames are Nielsen's brushed metal silver aluminum with non-glare ultraviolet protection Plexiglas. Please email me for availability and prices for matted prints and framed prints.
Hand Pulled Digital Prints can be ordered in 11" x 14"or 16" x 20", matted or framed
16" x 20" Framed Hand Pulled Digital Prints, $150
11" x 14" Framed Hand Pulled Digital Prints, $80
16" x 20"Matted Hand Pulled Digital Prints, $75
11" x 14" Matted Hand Pulled Digital Prints, $40
Shipping and packaging not included in price
For more information or prices on original artwork, email: connie@rainbowartscenter.com