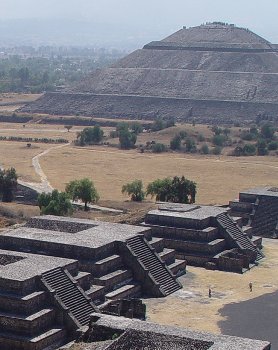 Sun Pyramid From
the Top of the Moon Pyramid
The Sun Pyramid was built over a cave that was partially hand shaped with 4 chambers, like a four leaf clover and is now closed to the public. On top of the Sun Pyramid is a small piece of thumb sized abalone that is near the center of the pyramid. Local people put their thumb on that navel spot for blessings and power. It used to be possible to walk around the perimeter of the pyramid at each of the levels but they are also now closed.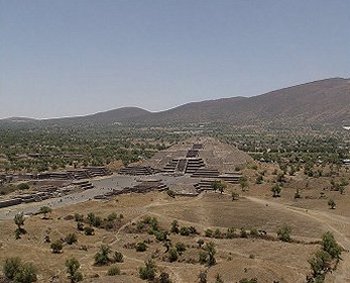 Moon Pyramid From
the Top of the Sun Pyramid
The moon pyramid has been excavated and burials have been found and pictures have not been posted yet. There is an unexcavated mound with three trees, midway between the two pyramids.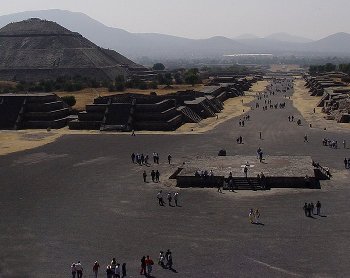 Avenue of the Dead
From Top of Moon Pyramid
The Avenue of the Dead is over a mile long and runs from North to South, with the Moon Pyramid at the North end. It has also been called the Milky Way. Ceremonies may have been performed in the plaza below the moon pyramid. Note how the Pyramid of the Sun echoes the mountains behind it.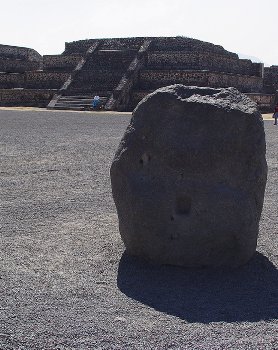 Guardian Stone of
the Moon Pyramid
If you look closely, you can see a face!!
She is also called the Gratitude Stone and people touch her for blessings. She now has a fence around her.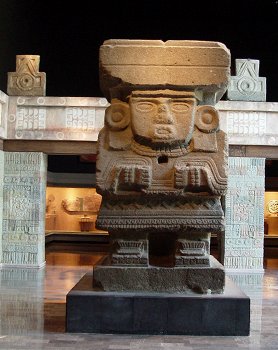 Goddess of Water--Chalchiuhtlicue
In ancient times, the Goddess of Water stood in front of the Moon Pyramid at Teotihuacan. Originally her skirt was jade and she had turquoise earrings. At one time she had a gold pendant in the center of her chest, but it was stolen. She was the wife of Tlaloc, the Rain God. According to Don Miguel Ruiz, she was discovered over a hundred years ago, lying face down, on the west side of the Moon Pyramid. She is 16 feet high and weighs 22 tons.
Museo National de Anthropologia in Mexico City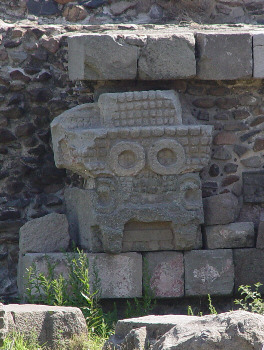 Tlaloc, the Rain God, at the Temple of Quetzalcoatl
Quetzalcoatl means feathered serpent, and he is also represented by carved statues at the Citadel of Quetzalcoatl as well as in other areas of Teotihuacan.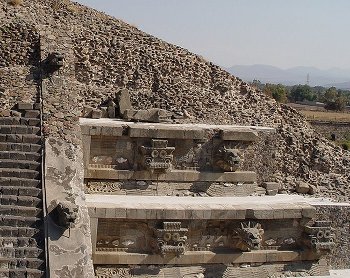 Pyramid of Quetzalcoatl
The carved heads are of Quetzlecoatl (Feathered Serpent), Tlaloc (Rain God) or Quetzalpapalotl (Butterfly God), and the jaguar. The temple in front of the pyramid is dedicated to Quetzlecoatl and Venus, Goddess of Love. It is located at the South end of the Avenue of the Dead on the East side.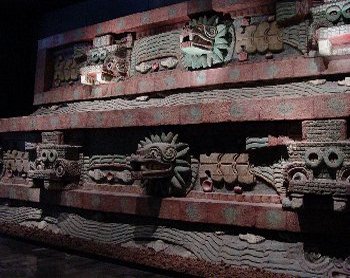 Museo National de Anthropologia,
Mexico City
A replica of the pyramid of Quetzlecoatl, that has been painted with colors as they once were.